Prehistoric Park will show you a whole new angle of the prehistoric life. Take up the call of the primeval past and enter the world of crazy prehistoric rides and attractions! Turn the boring caveman's life into a wonderful never-ending holiday!
You can choose from more than 60 mind boggling attractions and rides. Build the biggest and craziest prehistoric theme park ever!
Decorate your theme park with exotic trees, unique flowers, pagan totems and stone temples.
Offer your guests a fruit cocktail, cook them a great kabob and treat them with the first ever ice cream.
And don't forget to hire workers. They will keep your fun park running and take care of visitors.
Play with your friends and share your achievements! Compete with them to build the best amusement park!
Prehistoric world is waiting for you! Play it now!
DO NOT MISS IT!
The game will appear on Google Play and AppStore very soon. Don't miss that moment. Submit your e-mail and we'll gladly inform you as soon as it happens.
Enter your e-mail and select your device: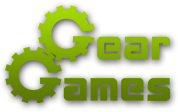 ©2012 Gear Games, Ltd.
Android is a trademark of Google Inc. Apple, the Apple logo, iPhone, iPod touch, and iTunes are trademarks of Apple Inc., registered in the U.S. and other countries. App Store is a service mark of Apple Inc.
Customer support and all business questions:
info@gear-games.com